(links are to sound files)
Although known to the world as a great blues singer, Big Bill Broonzy was, perhaps because of his experience in playing the fiddle at country dances and picnics, more, what Mance Lipscome once called, a 'songster'; A person capable of playing anything for anybody. Bill was surely a great blues singer, with a laconic and sometimes 'hollering' singing style but with a skill in playing his guitar that leaves those of us that try to emulate him open mouthed at his dexterity and virtuosity. Bill was a flat picker par excellence (check out How You Want It Done) and a finger picker and singer without compare, as the following clips will confirm.
As well as crying the blues (Saturday Evening Blues), Bill played played popular songs The Glory of Love, and wrote his own (Key To The Highway). He played sprituals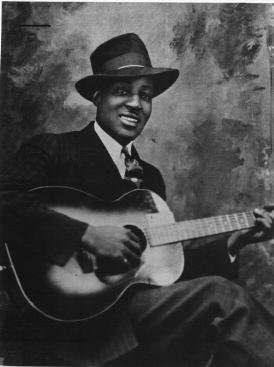 and 'protest songs' (Black, Brown and White), dance tunes, ragtime pieces (Guitar Rag) with a strong hint of Blind Blake in them, and pieces of pure hokum, following his time as one of the Hokum Boys! Bill was a story teller par excellance ( Joe Turner) albeit sometimes a bit flexible with the truth.
Take the story about Backwater Blues (here). Recent research suggests, according to blues historian and writer Elija Wald, that 'Broonzy's story is not to be trusted in full -- I think most historians doubt that this trip ever happened, and it couldn't have included all the artists he lists -- but Barbecue Bob, Smith and others certainly recorded songs about the flood, and there is no reason to doubt that this was the record company's idea rather than theirs.'
David Evans adds, 'Broonzy's recording career had not even begun when this flood [in Mississippi] struck (April, 1927), and Bessie Smith's song was ...recorded two months before the flood and was about a different flood, [probably, according to Evans, one in 1926 in Nashville, Tennessee] though it became widely assumed that it was about the flood of the Mississippi.'
Bill's Instruments
Photos of Big Bill Broonzy from the 1920s and '30s show him posed with various guitars, including a plain-Jane Regal flattop and an ornate Gibson Style 0 with a carved top, oval soundhole, body scroll, and cutaway. In later photos, with Sonny Boy Williamson and singer Rosetta Howard, for example, Broonzy is playing a blond Gibson L-7 archtop. During the '50s, his instrument was a Martin 000-28 (see left) that is now in the musical archive at the Old Town School of Folk Music in Chicago.
Paul Geremia, one of Broonzy's guitaristic progeny, observes that Broonzy favored an unwound third string. Furthermore, photos and film footage indicate that he achieved his remarkable volume and clarity of tone without using fingerpicks. —Steve James
See some clips of Bill here
This is one of the best sites to hear some Big Bill and to buy some records.
Lyrics
Bill wrote more than 300 songs and was a master lyric writer
Some folks say the Big Bill Blues ain't bad
Must not have been the Big Bill Blues they had.
Big Bill Blues
I want a job that that I go to work at twelve, get off at one;
Have an hour for dinner boys, my day's work be done.
When I been drinking
BILL BROONZY said : I write it from experience, from things that I have experienced and things that I did in life and the way I think of things in life and what has happened in my lifetime. 'Cause you can take anything and write a blues about it. You can take a chair, a box, an axe, anything, a knife, anything and start writing a blues from it. 'Cause you can think of the different things you would do with a knife. Take a knife - ...you could maybe skin a fish, cut a chicken's throat, skim your toenails or your fingernails, then you could kill somebody with it too. By the time you think of all the things you could do with a knife, then you got the blues. It don't take but five verses to make a blues. Think of five things you can do with something and that's it. Think of five things that woman done to you and then you got the blues. Was it she stayed out all night or she stole away your money or was it she didn't fix your food right or something? ......all that.
If you want to sample the beauty and humour of some of the lyrics he wrote go to here
Don't forget to look at the Stephan Grossman sites at www.guitarvideos.com
and www.guitarworkshopuk.com for some super stuff on Big Bill and many, many others.
Use the menu on the left to visit a selected discography and see some reviews.
---